Attorney Erica P. Rios
I was born and raised in El Paso to Joe D. Rios and Alma Rios. Growing up, my father was a police officer and my mother was a homemaker. I was inspired to pursue a career in law because of my father. My parents always encouraged my sister, Cynthia, and I to pursue our goals in life and to always serve our community. They have always been our biggest supporters and I attribute all our success to them.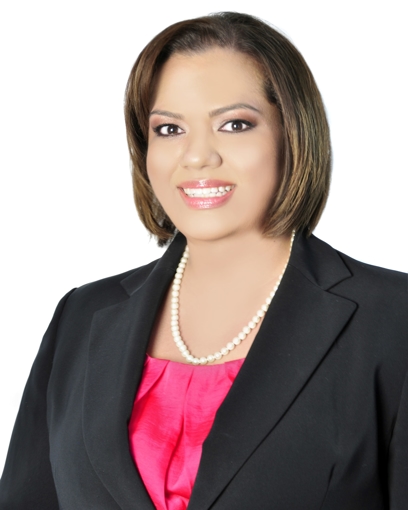 I am proud graduate of J.M. Hanks High School class of 2001. After high school, I chose to stay in El Paso and attended the University of Texas at El Paso. While at UTEP I became a member of Sigma Lambda Gamma National Sorority Inc. and a founder of the Upsilon Beta Chapter at UTEP. Being able to help bring a chapter of the largest Latina based sorority in the nation was extremely special to me because El Paso is a predominately Hispanic community, yet UTEP did not have a sorority that represented our community cultural heritage.
As part of my academic studies at UTEP I was accepted to the Law School Preparation Institute. I am very thankful for the help and guidance I received from Dr. Webking and Dr. Weaver in preparing me for law school. This program was truly unique and an amazing experience. I graduated from UTEP in 2006 with a degree in Political Science and a minor in Economics.
Upon graduating from UTEP, I took a year off and began working as a clerk for Associate Judge Kathleen Anderson in family court here in El Paso. My time spent working with the family courts quickly sparked my interest in family law and I knew that I had found my calling. I knew that once I finished law school I wanted to come back to my community and serve the families of El Paso.
I began law school in the fall of 2007 at Washburn University School of Law in Topeka, Kansas. Leaving El Paso for the first time and moving to Kansas was definitely a culture shock. Growing up in a Hispanic community you are taught that you are a "minority" but living in Kansas allowed me to understand what it really meant to be a "minority." My three years at Washburn were wonderful. I made life-long friendships and learned a lot. I was fortunate enough to participate in the family law and criminal clinic where I was able to represent clients under the supervision of Professor John Francis. I graduated from Washburn University School of Law in May 2010.
After graduating from Washburn, I quickly clicked my red heels and came back home to Texas and began studying for the Texas Bar. I began my legal career as a law clerk and then as an associate attorney with Paula Thomas after being admitted the Texas Bar in May 2011. In January 2012, I opened up my own practice with the help and support of my dear friends Ignacio and Linda Estrada.
Throughout my legal career, family law has been my passion. I am dedicated to serving the families of El Paso and it brings me great joy when we are able to reach a resolution where both sides can be happy. I understand that when clients are dealing with divorce or custody matters it is probably one of the most stressful times in their life. It is my job to walk my clients through the process and hopefully get a resolution that will allow the family to move forward in life.
Practicing family law has its challenges and definitely makes you look at life differently. I am a believer of marriage and know that marriage is derived from hard work and commitment on both sides. I am very fortunate to have a loving husband, Daniel Lopez, and look forward to eventually starting a family of our own. Until then, we are the proud parents of our fur baby Kylo, a Siberian Husky.
Practice Areas
Bar Admissions
Other Affiliations
El Paso Young Lawyers Association, 2011 - Present (Treasurer)
Mexican American Bar Association, 2011 - Present
Family Bar Association, 2011 - Present
Junior Legal of El Paso, 2012 - Present (Provisional Member)
Past Positions
Community Scholars , Intern, 2000 - 2001
Law Office of Paula L. Thomas , Law Clerk/ Associate, 2007 - 2011
Education
J.D from Washburn University School of Law, Topeka, Kansas
B.A from University of Texas at El Paso, El Paso, Texas
Languages
---
Contact me today to learn more!
---